HYDRATION AND ELECTROLYTES
---
Posted on Apr 16, 2019 to Public
---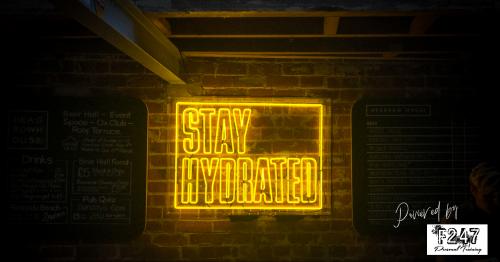 WHAT ARE ELECTROLYTES
The most common question I get asked is, what are electrolytes?
The key electrolytes especially for performance are sodium, potassium, calcium and magnesium.
Electrolytes are needed to control all the electrical impulses and stimuli in the body. These are needed for the functioning of the brain, muscles and heart. All things that are pretty important for runners / walkers / keep fitters / gym goers.
'Daily hydration'
Even just going about your daily business such as working, studying, shopping etc you will be losing electrolytes. Every time you sweat, you're losing electrolytes from your body.
'General symptoms of dehydration'
Being thirsty, headaches, nausea, tired and dizzy, cramping at nights, not running or functioning well on a run, walk or while working out. Basically performance below what you expected or have previously done.
'How to find out how much fluid (sweat) you are losing on a run'
This is commonly known as the sweat test. Firstly make sure you are doing this test on a warm day. Try and make it on a day that you have a 45 / 60 minute run scheduled. Weigh yourself before your run, and then as soon as you get back.
Scale:-
Any weight loss under 2 1/2 pound you are considered a light / moderate sweater.
Any weight above 3 pounds you are considered a heavy sweater.
The point of the above sweat test is to allow you to find out how much fluid you are losing and how much you need to take on board during your run. Especially for runs 60 mins or longer. When you weigh yourself after a long run and you come in on point, you know you are getting your water intake right.
For distance running make sure you included hydration as part of your run training. Train your gut like every other part of your body. Learn how to sip, not gulp whilst you are actually running. (Gulping can lead to ETAP known as the stitch). For those of you half / full marathon and ultra run training make sure you also test foods in the same way. On the day of the race / run make sure bring, and you use the same products that you have been training with.
'What's the go to hydration product'
Everyday for the last 3 months I taken two "MyProtein Electrolyte Plus" tablets first thing in the morning and I've felt great on them. I used to cramp up with my calves in bed but this hasn't happened since taken the above tablets. (Fingers crossed this continues)
If I'm doing a long run / cycle event I would also take a water bottle with a flavoured tablet that you mix with water. There are a few on the market so it comes down to personal choice. I use Zero tabs as they taste great.
'Running with water / fluids'
Try and run with water in a hydration belt or with a hydration back pack. If you don't like this method make sure to run holding two water bottles. One for each hand. I say this as holding one bottle, especially over some distance can, and will make you change your technique, body positioning, fight your efficiency, and can lead to niggly injuries.
Remember your body is made up of approx 75% water. It won't function at its best without it.
The link for the tablets is https://www.myprotein.com/sports-nutrition/electrolytes-plus/10529467.html
Again I don't get anything for endorsing this product. MyProtien are just a great company that has what I like. The prices are good and get better if you wait for the weekly discount codes they put out.
Fit247 Personal Training..........
---
---
Login to post a comment
---