MuscleswithMilli's Blog
---
Spaghetti in a Squash
Posted on May 29, 2019 to Public
I LOVE spaghetti... Unfortunately, that was one of the foods that were off the list when it came down to eating gluten free. A friend suggested substituting spaghetti squash in place of the noodles. Talk about a game changer! I immediately fell in love with this romantic, yet newly healthy, meal; and so did my hubby! It's easy to prepare, requiring little effort...except the dishes....I hate doing dishes.
Spaghetti in a Squash

Time Allotted:
Prep Time: 10 minutes
Cook Time: 10 minutes (meat sauce) 45 minutes (spaghetti squash)
Ingredients:
Spaghetti Squash
2lbs Ground turkey meat
25oz Organic Tomato Basil Sauce (make sure there is no sugar in the ingredients)
1tsp Minced garlic
1tbs Olive Oil
Instructions:
Preheat oven to 425 degrees Fahrenheit
Wash spaghetti squash and place in oven (whole, not cut) for 45 minutes
Place pot on stove and set the stove to medium or medium-high
Pour the minced garlic and olive oil in pot and mix
Place ground turkey in pot and begin to brown it...make sure the meat is completely brown and has no signs of pink or red
Drain the accumulated liquid from the pot
Pour the tomato basil sauce into pot and stir
Allow the spaghetti sauce to simmer for 5 minutes then remove from stove
Remove spaghetti squash and allow it to cool for 10 minutes
Cut spaghetti squash in half and begin using a fork to collect the cooked squash and put it in container
Pour spaghetti squash and meat sauce in bowl
ENJOY!
TIP: Cook the sauce while waiting for the squash to bake
-Milli-
---
A Fitness Journey to Remember....
Posted on Apr 22, 2019 to Public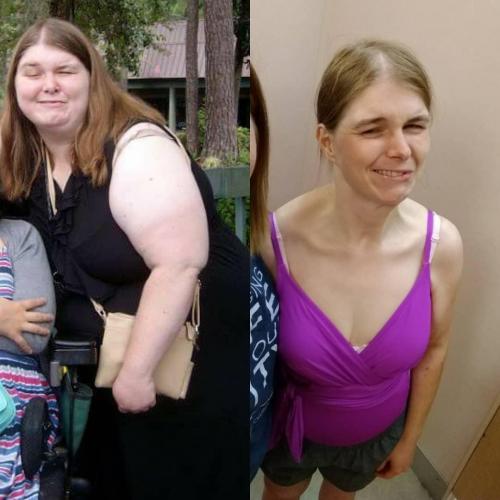 What I love about my job is witnessing an inspirational story unfold. Every. Single. One. All my clients hold a special place in my heart; but this girl was on my mind today... she has encountered every obstacle that you could think of. Some could say that exercising would be close to impossible let alone lifting weights. But here she is.... lifting weights and stronger than ever! The weight is lost and the confidence is bold... I'm so proud of how far she has come. Girl, if you are reading this, you are an inspiration to many!
This is her fitness journey...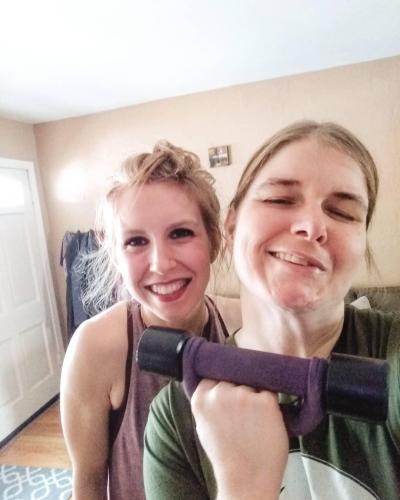 "For YEARS I felt defeated when it came to exercise, like with my obesity and disabilities (low vision plus balance problems) I was destined to always be "bad" at it. Training with Milli has blown those doubts and insecurities out of the water. I needed exercise to be made accessible to me and adapted to my unique challenges, and that's exactly what Milli did. It feels incredible to see my physical abilities and confidence grow as I continue in determination and discipline to exercise and improve. My mind is at peace, too, knowing that I'm doing what I can do honor God with this body I've been given."
Help me celebrate her today as she continues to make strides in her fitness journey!
-Milli-
---
Love is Forgiveness
Posted on Apr 16, 2019 to Public
I don't know about you, but this is one of the hardest parts about love for me. When I'm wronged, or when I wrong myself, all I can think about is how they don't deserve my forgiveness. But, I often times forget how a reckless love also forgives recklessly.
You see, God showed me something profound. So profound I can't leave it unsaid....
God created relationships so that we may get a small glimpse of what our relationship with our Father is like. This glimpse is not only to show us His reckless love but also His broken heart; and how each time we break His heart, He again welcomes us back with open arms and a feast to celebrate.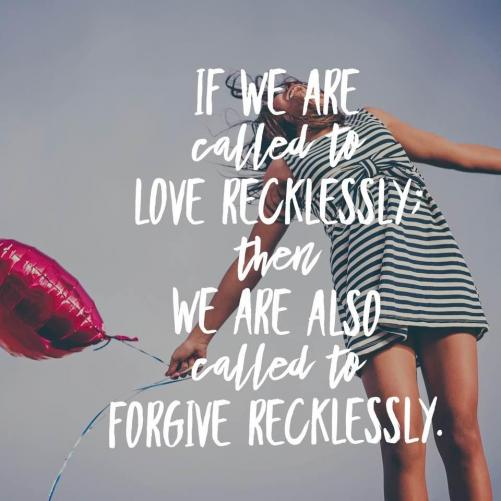 I'm about to get real here so bare with me... I'm divorced. Yep, this blue eyed, 26 year old is divorced and has recently, happily, remarried. I won't go into details but my first marriage was an abusive one... for those two years, I begged God to heal my marriage; I tried to do everything right. But it wasn't enough... Just one week shy of our two year anniversary; my first husband wanted out. Though the divorce was one of the hardest things I have ever endured, God revealed this delicate truth to me during this time. I had to learn how to love and forgive not only my former spouse but MYSELF!
Oh how I wish I could forgive as recklessly as my Father. But that's what we are called to do as believers! Not only are we called to love recklessly but we are also called to forgive recklessly.
Sweet friend, I don't know what you are facing today... but know that the best thing you can do for yourself is to forgive...let go and be free! You are free and called to live a healthy life. Why don't you start that today?
-Milli-
---
When Life is Messy
Posted on Apr 5, 2019 to Public
"If what is within you is not from above you, then you succumb to what is among you." -Unknown
It's easy to have peace when everything is going as planned. But let's admit it, life is messy…It's a combination of ups and downs. Some days, we go to bed on cloud nine-- We receive that promotion, we come home to a loving spouse, we have our finances in order, etc. But what about those days when you come home with no job or to a struggling spouse. These times may just be days to some and be weeks or years to others.
Why do so many of us struggle with finding peace? Why are there so many in society that have diagnosed disorders of anxiety and depression?
Locus of Control
It is important to understand that happiness and peace are not a feeling but a choice. The only one who can provide peace and happiness is yourself. We cannot control what happens around us, BUT we do have complete control on how we react to what life throws at us! When life is messy, and even when it's not, we need to assume control of our actions and be proactive in coming to a place of peace.
For me, it helps to focus on what I could improve about myself... Could I be healthier than I am?(Guys, I LOVE cookies…. it's really bad.) Be a better wife? Friend? Family member? How can I improve? When I started focusing more on how I can improve instead of how I can fix others, it not only leads me to peace but to a place of contentment.
Resiliency
"Even trials have their expiration dates." -Lysa Turkeurst

Rather than looking at unfortunate circumstances as life falling APART; look at it as life falling INTO place….view these trials as a challenge to overcome. You have the opportunity to grow stronger than ever before and to learn from this experience. Remember, even trials have their expiration dates.
For me, when I change my perspective and look at a situation more as a challenge, it motivates me to look at the big picture...don't try to compare your seasons of trials to other's seasons of abundance. Stay focused on the big picture and that all things work together for the best!
Setting boundaries
This is an important step to take in order to reach peace... Saying "yes" to every request will only leave you exhausted, stressed, and resentful--leaving life messier than you found it. It's OKAY to say "no." Keep in mind that saying "yes" to serve others is wonderful; but is it really serving others when you are bitter and resentful while doing it?
It is so hard to say no when you want to please others…. trust me, this is a BIG struggle for me. I'm always afraid of missing out, upsetting others, or hurting someone's feelings that I would literally say yes to everything!! I'm a work in progress but I am beginning to realize that not only are people OKAY when I say no but I am more at peace. No longer do I experience anxiety about having to commit to something that I really don't want or have to do.
Faith
"Whatever is true, whatever is noble, whatever is right, whatever is pure, whatever is lovely, whatever is admirable-- if anything is excellent or praiseworthy-- think about such things.  Whatever you have learned or received or heard from me, or seen in me—put it into practice. And the God of peace will be with you." -Philippians 4:8-9

What you believe has a major impact on obtaining perfect peace… it changes your perspective and provides you with hope. Friend, I want to encourage you to set aside a moment in your day to have quiet time and dwell on the blessings you have. Think about these precious words that God has tucked into His Word. DWELL ON THEM ALL DAY!
On a personal note, my faith is a lot of why I am here today. It has taken awhile for me to learn what it means to have the peace that surpasses all understanding; but once I learned how, a burden was lifted.
To those of you who feel like you are carrying a weight on your shoulders that is to much to bear; I know how that feels…and my heart goes out to you! But take heart, friend, that this kind of peace is for you too. It doesn't make life less messy, it doesn't change the circumstances, but it changes YOU! This peace takes you to a place where your mind is no longer being held captive fear. When you are no longer a slave to fear, life's storms really don't seem that bad anymore.
Peace is more about what is inside you then what is in the storm! Take heart, trials have their expiration dates. The best is yet to come!
-Milli-
---
My Big Fat Greek Salad
Posted on Mar 27, 2019 to Public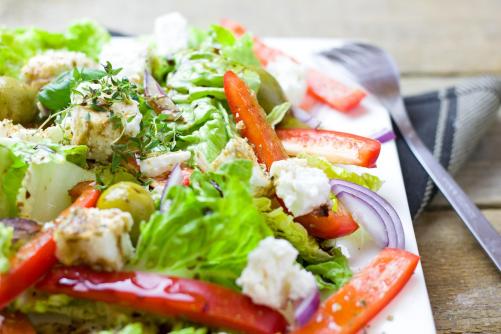 I don't know about y'all, but I am NOT much of a salad eater…. I always go for the MEATS!! Yep, I admit it… I go for all the steak, all the chicken, and all the fish… ALL. OF. IT! Forget the greens!! By the way, when is desert?! Besides, who has time to prep a giant salad? And WHO is starving after consuming one?! THIS GIRL!!
***Want a sweet & healthy snack? Check out my Chia Seed Pudding Recipe!***
Hear me preach sistas…..
This salad that is not only filling but healthfully delicious! It takes a little time; like ten minutes, but if you save the dressing for the appointed eating time; you can prep it for the week! TA WEEK! Did I mention that it's easy??
My Big Fat Greek Salad
SERVING SIZE
Size: Serves 4-6
TIME ALLOTTED
Prep time: 10 minutes
Cook time: 0 minutes
Total Time: 10 minutes
INGREDIENTS
Mixed Greens- 1 Bag (contains spinach, arugula, and other leafy greens)
Tomatoes- 1/2 container(or to taste), Sliced 1/2
Green Bell Pepper- 1 Diced
Onion- 1 Diced
Cucumber- 1 Chopped
Olives- Add to taste
Feta Cheese- Add to taste
Greek Salad Dressing (Organic)- 1/4 Cup
DIRECTIONS
Pour the washed greens into a mixing bowl, then wash the cherub tomatoes and green bell pepper. Slice the tomatoes into fourths followed by dicing the green bell pepper and onion. Chop the cucumber then add the veggies to the mixed greens. Add olives and feta cheese to taste. Mix generously and seal. Refrigerate until ready to eat. When ready to serve, place in bowl and pour 1/4 cup of Greek dressing. Enjoy!
-Milli-
---
About The Author: Milli Hale
Posted on Mar 25, 2019 to Public
My Health Journey

My name is Millicent Hale, Milli for short, and I am the founder of Muscles with Milli! I am a personal trainer who brings the gym to my client's home. I believe that being healthy should be natural and convenient, as my dream is to set women free through the field of fitness. Here's a little bit about my health journey….
Growing up, my family lived off of frozen burritos, fast food, and soda. In addition to not having a healthy diet, my parents did not engage in any form of exercise. They struggled with weight and other heath problems such as pre-diabetes, and arthritis. While growing up, I did take part in physical activity, but I didn't really engage in healthy eating. Since graduating high school, I have been determined not to fall to poor health choices. That's when my health journey began!
Fitness has always been a passion of mine, I did research and looked into some degrees I could earn that would not only increase my knowledge; but that would also allow me to extend help to others in similar situations. I gained experience from different fields of health– I interned for the Oklahoma Department of Mental Health and Substance Abuse where I created a grant that was geared towards improving the nutrition, fitness, and total wellness of the residence of Griffin Memorial Hospital. As of December 12, 2015; I graduated from Oklahoma State University with a degree in Health and Exercise Science! GO POKES! Post graduation, I have had the opportunity to work in both the physical therapy field as a tech and the fitness field as a personal trainer at my local gym.
Since then, I have married my AMAZING husband, who continues to encourage me in not only in my health journey but in pursuing my dreams!
So pack your bags and join me on this adventure with Muscles with Milli as I show you some tips, facts, and new ideas on how to better improve your fitness, nutrition, and total wellness! For those of you who are my clients, YOU GET SPECIAL ACCESS to never before seen blogs! We are in this together and its GONNA BE FUN. I hope you enjoy my blog and find it fun and helpful!
WELCOME TO MUSCLES WITH MILLI!
-Milli-
---
Chicken Fajita Omelette
Posted on Mar 25, 2019 to Public
I LOVE Mexican food! Hence the chicken fajita omelette…I was having withdraws from the spicy zestiness of what this authentic food brings to my mouth... This dish is easy and delicious; not to mention healthy!! My hubby is a lover of all things guac! So this dish was PERFECT to add one of his favorite things. HUBBY APPROVED!!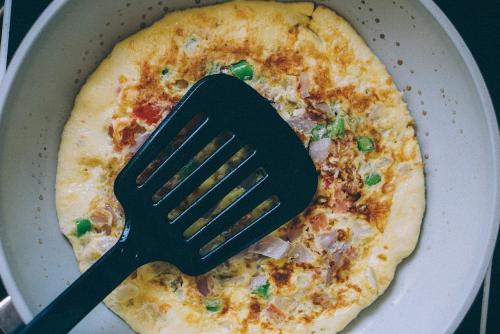 Los Huevos y Pollos (Fajita Chicken Omlette)
SIZE
Serves: 1-2
TIME
Prep Time: 3 hours
Cook Time: 10 minutes
Total Time: 3 hours & 10 minutes
INGREDIENTS
Chicken Breasts: 3
Bell Peppers: 3 (red, yellow, green) chopped
Yellow Onion: 1/2 chopped
Garlic: 3 cloves
Chili Powder: 1 Tablespoon
Cumin: 1 Teaspoon
Salt: Add to Taste
Eggs: 4
Pico de Gallo: Add to Taste (I purchase mine from Wholefoods)
Avocado: 2
DIRECTIONS
Place 3 chopped chicken breasts in the skillet, mixing periodically, and sautee till done. In a separate pan, add the chopped onion, red, yellow, and green bell peppers along with the 3 cloves of minced garlic. Simmer on medium high, mixing periodically, until onions have a clear appearance. Once the chicken and veggies are done, pour in bowl and mix together, add seasoning (1 teaspoon of salt, 1 teaspoon of cumin, and 1 tablespoon of chili powder.) In a skillet, add 4 eggs; stir until completely mixed. (adding milk or almond milk is an option). Keep an eye on it and when the eggs begin to look like they are scrambled, add the fajita chicken on top of the egg on one side of the pan. Flip the empty side of egg over the fajita chicken and gently place it on a large plate. Add pico de gallo and avacado according to taste. ENJOY!!
Did you enjoy this recipe? Would love to hear about your experience!
-Milli-
---
Goal Setting
Posted on Mar 24, 2019 to Public
Keep your eyes on the stars and your feet on the ground.
-Theodore Roosevelt
Have you ever experienced burnout from trying to achieve too much at once? So many people give up on their goals before the journey ever begins!! To avoid this burnout, allow me to show you how to set SMART goals!!
S.M.A.R.T Goals
Using this method helps in improving self-confidence, self-efficacy, AND self-success!! Here is an easy way to remind yourself on how to be practical when setting your goals!!
S…….Specific.
Be specific when you set your goals. You want to answer the "6 W's;" who, what, when, where, why and which. What is your goal? When will it happen? Where will it happen? Who is included and/or involved? Which factors are required? Why are you setting this goal?
Example. I want to run the Oklahoma City Memorial Half Marathon (WHAT) with my friends (WHO) on April 30th in downtown Oklahoma City (WHEN & WHERE) because I want to be in better shape (WHY). I will have to train which will require me to have good running shoes and discipline (WHICH).
Setting goals that are more vague will not motivate you as much as specific goals and will leave you wandering in the dark!!
M……Measurable.
Make sure when you set your goals that you set goals that you can measure! Ask yourself how many and/or how much/ long. Include target dates to keep you on track and to help motivate you in achieving you goal!
Example. For the half marathon, I will have to be able to run 13.1 mile. I will measure by participating in a 9 week training program where I can measure my distance at the end of every week starting February 1, 2017 (TARGET DATES, HOW MANY).
Create and write down 10 day goals, three month goals, one year goals, and five year goals!
A…….Attainable.
Don't set goals that aren't attainable...Make sure that you have the abilities, resources, and environments to achieve your goal! Begin listing skills, attitudes, abilities, and other factors or attributes you may need in order to achieve your goal. Then, use a method to help track the development of these attributes.
Example. In order to run the Oklahoma City Half Marathon, I have the ABILITY to run. This may be broken down to not only running but cross training in order to avoid injury– weight lifting, swimming, biking etc. Every day when it's time to run, I need to have a disciplined, motivated, excited ATTITUDE. I can track my progress by journaling the details of my training days in order to see how I am improving in my conditioning and muscle strengthening.
As you begin to develop the traits you need in order to achieve your goal, you will feel more confident and motivated to persevere!!
R……Realistic.
Never set goals that you don't have the ability or motivation to achieve! Set goals for ideas, beliefs, and activities that you are passionate about and that will ultimately lead you to your success! Be sure that you have access to the resources necessary to achieve your goal!
Be careful to note the difference between attainable and a to-do list-- goals should be a challenge! Business Coach and Motivator Speaker, Brian Buffini one said, "Goals must be SOMEWHAT unrealistic; otherwise, it is just a checklist."
Example. It would be UNREALISTIC of me to set a goal to run a half marathon if I wasn't motivated or passionate about staying healthy!!
T……..Time.
Be sure that you give yourself enough time to set your goal! Set target dates to keep track of your progress!
Example. If I choose to set a goal to run a half marathon but I only give myself a week to get in condition for it; it is very unlikely that I will achieve that goal! It will also leave me feeling stressed and defeated. In contrast, allowing myself TIME to achieve this goal in 9-10 weeks will allow me to prepare for the half marathon and will increase the likelihood of me achieving that goal. (And a plus— it will increase your motivation and confidence!)
Goals don't have to be met right away! The fun and adventurous part is the journey in achieving your goals! Be practical yet aim for the stars!!
I'm anxious to know what you think and if this method has helped you in creating and achieving your goals...
-Milli-
---
Rescue Your Workout Partner
Posted on Mar 22, 2019 to Public
A Dog is a Girl's Best Friend.
Are you looking for someone to hold you accountable, and keep you motivated? Look no further than your local dog shelter!
That's right, rescue your workout partner, and get started on your fitness journey...Dogs love to go on walks or run with their humans!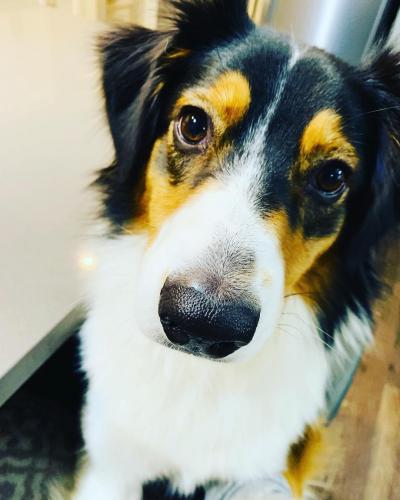 Did you know?
There are millions of dogs Euthanized every year...In addition, there are millions of Americans who are dying from preventative health problems...
What if we could avoid both of these isssues?! If everyone had a dog and took it on a walk every day...that could possibly mean that dogs are being rescued and all of the Americans would be on the road to success in their wellness journey! BOOM!! MIND BLOWN!!! I've solved America's obesity rate, and it's dog-euthanizing problem all in one!
3 Reasons Why You Should Exercise With Your Dog
Hate cardio? Long walks or runs with your dog will not only benefit you, but you'll get the satisfaction of giving a puppy a day of a lifetime!
Dogs hold you accountable. Once you've started a cycle of getting up in the morning to go on a walk, they will then realize that they do that every morning. Do not worry, they won't let you skip a day! That walk is the highlight of their day!
After a good day of exercise, take a nap with your fury friend...Their cuddles are the best!
Remember that you are saving a life when you rescue a fur baby! Don't take it for granted; they don't take you for one.
-Milli-
---
Food Journaling
Posted on Mar 22, 2019 to Public
Record your Food
How well do you know your own body? Do you know how much fiber you need each day to have a regular bowel movement? How much water do you need to drink to stay hydrate? Do you know why you feel bloated every day? There are so many questions that need answers when it comes to what we consume each day. Well, I'm here to tell you that it does not take a medical professional to inform you that you're bloated, and why you're bloated. Everyone is unique and, therefore, process foods differently...
Food journaling is a tool I use to track what I eat each day. It helps me track how the various foods I consume effect my body. Please take note that this method is different for each individual; which is also why it's so effective! Food journaling is primarily a source to help us become more in-tune with our bodies.
(DISCLAIMER: Food journaling will not tell you why your body cannot handle certain foods but it will at least tell you what your body is capable of digesting properly!)
How Do You Do It?
How do I journal my foods? I take a basic approach. It has led me to find that I feel better on certain foods and that some foods just make me feel blah… I also found out what foods really trigger my bloating, my acne, and my energy.
My Journal Example
For breakfast I had one cup of coffee, with a dash of cashew milk, and a tablespoon of cinnamon roll creamer. I also had two eggs, and 50 grams of egg whites with half an avocado.
Ran 3 miles
For Lunch I had one taco salad, with Greek yogurt instead of sour cream.
For dinner I had grilled chicken, sweet potato, and steamed broccoli.
Right before bed I had a hot cup of green tea which helps me sleep.
I'll, then, write something like, "today was a great day, I didn't feel bloated, and I had enough energy to get me through." I might elaborate on how each food made me feel. For example, if I felt better eating the Greek yogurt than the sour cream.
Everyone is Different
Now this is just an example similar to what mine would normally look like. Everyone is different, so yours might not look like mine! Find what works for you, and create your own style! I usually enter my food into the My Fitness Pal app throughout the day. This is for more accurate measures of everything I eat, when I'm writing in my food journal. I found that this helps me stay on track a little bit better, and I can just write down my journal at the end of the day quicker. This helps with time management, as it can be time-consuming at first.
After each week I'd do an overall journal passage. I'd document how my skin is and even my weight and measurements. I'll also document any thing that stuck out to me; such as if I felt that I had a lot of bloating.
I will say the hardest part is actually listening to your body. This is a relationship that takes time to build, just like any relationship. Be patient and really listen to understand what you might be feeling. It will truly surprise you and you will really learn how your body works, and what works for you.
Helpful Tips
Okay….. so food journaling can be a lot to handle and it can be stressful if you over do it. However, if you find yourself bloated all of the time, or even things like constipation, nausea, or acid reflux; I highly recommend it! You might surprise yourself... A great way to get started is to start small and progressively add more with each passing week--Take note of what you are eating for breakfast for a week and see how your breakfast made you feel. Ask yourself questions like, how long it make me feel that way? At the end of the week, go back to see how you felt each day and do a self- evaluation for the week.
Be sure to STICK TO YOUR REGULAR EATING ROUTINE when you begin to journal your food. The point of food journaling is to discover what's bothering you and what's helping you. After you do it for a while, then implement new foods!
Find a partner! It is extremely motivating when you can talk about food journaling with someone else--It holds you accountable and you might discover some new ideas!
-Milli-
---