Chicken Fajita Omelette
---
Posted on Mar 25, 2019 to Public
---
I LOVE Mexican food! Hence the chicken fajita omelette…I was having withdraws from the spicy zestiness of what this authentic food brings to my mouth... This dish is easy and delicious; not to mention healthy!! My hubby is a lover of all things guac! So this dish was PERFECT to add one of his favorite things. HUBBY APPROVED!!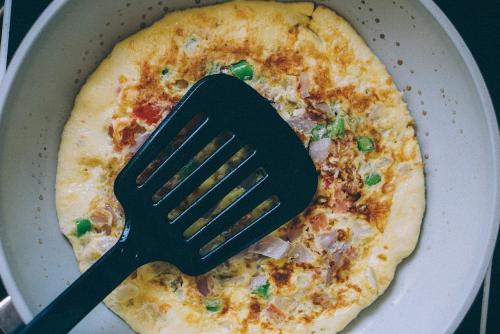 Los Huevos y Pollos (Fajita Chicken Omlette)
SIZE
Serves: 1-2
TIME
Prep Time: 3 hours
Cook Time: 10 minutes
Total Time: 3 hours & 10 minutes
INGREDIENTS
Chicken Breasts: 3
Bell Peppers: 3 (red, yellow, green) chopped
Yellow Onion: 1/2 chopped
Garlic: 3 cloves
Chili Powder: 1 Tablespoon
Cumin: 1 Teaspoon
Salt: Add to Taste
Eggs: 4
Pico de Gallo: Add to Taste (I purchase mine from Wholefoods)
Avocado: 2
DIRECTIONS
Place 3 chopped chicken breasts in the skillet, mixing periodically, and sautee till done. In a separate pan, add the chopped onion, red, yellow, and green bell peppers along with the 3 cloves of minced garlic. Simmer on medium high, mixing periodically, until onions have a clear appearance. Once the chicken and veggies are done, pour in bowl and mix together, add seasoning (1 teaspoon of salt, 1 teaspoon of cumin, and 1 tablespoon of chili powder.) In a skillet, add 4 eggs; stir until completely mixed. (adding milk or almond milk is an option). Keep an eye on it and when the eggs begin to look like they are scrambled, add the fajita chicken on top of the egg on one side of the pan. Flip the empty side of egg over the fajita chicken and gently place it on a large plate. Add pico de gallo and avacado according to taste. ENJOY!!
Did you enjoy this recipe? Would love to hear about your experience!
-Milli-
---
---
Login to post a comment
---