Love is Forgiveness
---
Posted on Apr 16, 2019 to Public
---
I don't know about you, but this is one of the hardest parts about love for me. When I'm wronged, or when I wrong myself, all I can think about is how they don't deserve my forgiveness. But, I often times forget how a reckless love also forgives recklessly.
You see, God showed me something profound. So profound I can't leave it unsaid....
God created relationships so that we may get a small glimpse of what our relationship with our Father is like. This glimpse is not only to show us His reckless love but also His broken heart; and how each time we break His heart, He again welcomes us back with open arms and a feast to celebrate.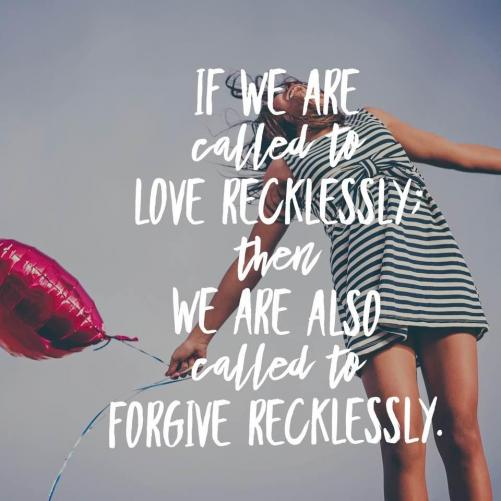 I'm about to get real here so bare with me... I'm divorced. Yep, this blue eyed, 26 year old is divorced and has recently, happily, remarried. I won't go into details but my first marriage was an abusive one... for those two years, I begged God to heal my marriage; I tried to do everything right. But it wasn't enough... Just one week shy of our two year anniversary; my first husband wanted out. Though the divorce was one of the hardest things I have ever endured, God revealed this delicate truth to me during this time. I had to learn how to love and forgive not only my former spouse but MYSELF!
Oh how I wish I could forgive as recklessly as my Father. But that's what we are called to do as believers! Not only are we called to love recklessly but we are also called to forgive recklessly.
Sweet friend, I don't know what you are facing today... but know that the best thing you can do for yourself is to forgive...let go and be free! You are free and called to live a healthy life. Why don't you start that today?
-Milli-
---
---
Login to post a comment
---