My Big Fat Greek Salad
---
Posted on Mar 27, 2019 to Public
---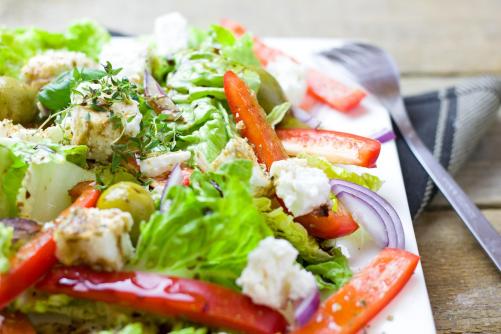 I don't know about y'all, but I am NOT much of a salad eater…. I always go for the MEATS!! Yep, I admit it… I go for all the steak, all the chicken, and all the fish… ALL. OF. IT! Forget the greens!! By the way, when is desert?! Besides, who has time to prep a giant salad? And WHO is starving after consuming one?! THIS GIRL!!
***Want a sweet & healthy snack? Check out my Chia Seed Pudding Recipe!***
Hear me preach sistas…..
This salad that is not only filling but healthfully delicious! It takes a little time; like ten minutes, but if you save the dressing for the appointed eating time; you can prep it for the week! TA WEEK! Did I mention that it's easy??
My Big Fat Greek Salad
SERVING SIZE
Size: Serves 4-6
TIME ALLOTTED
Prep time: 10 minutes
Cook time: 0 minutes
Total Time: 10 minutes
INGREDIENTS
Mixed Greens- 1 Bag (contains spinach, arugula, and other leafy greens)
Tomatoes- 1/2 container(or to taste), Sliced 1/2
Green Bell Pepper- 1 Diced
Onion- 1 Diced
Cucumber- 1 Chopped
Olives- Add to taste
Feta Cheese- Add to taste
Greek Salad Dressing (Organic)- 1/4 Cup
DIRECTIONS
Pour the washed greens into a mixing bowl, then wash the cherub tomatoes and green bell pepper. Slice the tomatoes into fourths followed by dicing the green bell pepper and onion. Chop the cucumber then add the veggies to the mixed greens. Add olives and feta cheese to taste. Mix generously and seal. Refrigerate until ready to eat. When ready to serve, place in bowl and pour 1/4 cup of Greek dressing. Enjoy!
-Milli-
---
---
Login to post a comment
---