MuscleswithMilli's Blog
---
Sweet Cha-Cha-Chia Seed Pudding
Posted on Mar 20, 2019 to Public
It is to no surprise that I have a sweet tooth…. and salads, up until recently, have been pretty low on my radar! What I am about to share with you is healthy, BUT it hits you right in the "sweet spot!" Sugar craving? Consider it gone! No sugar needed! (unless you consider the sugars in your fruit, but for the sake of this blog, we will not!)
You know that feeling when you come home from work and all you want is a snack? Then you realize that you have to fix said "snack?" That realization is followed with a sense of defeat followed by failure to make yourself said "snack!"
Well I hereby proclaim to you, NO MORE IMAGINARY SAID "SNACKS!! "This recipe you can make the night before and have it ready as you walk through the door! We humans love everything easy and quick! How 'bout we make being healthy that way too?! Without further ado, I present to you Cha-Cha-Chia Seed Pudding...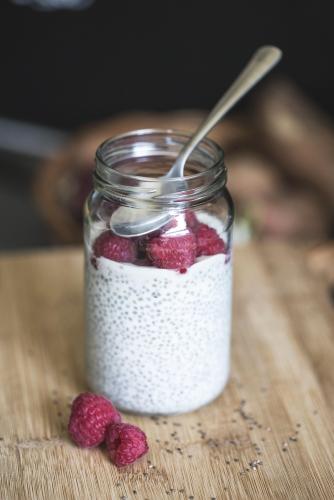 Sweet Cha-Cha-Chia Seed Pudding
Time Alloted:
Prep Time: 5 minutes
Chill Time: 20 minutes
Total Time: 25 minutes
Serving size:
Serves: 2-4
Ingredients:
Mason Jars- 2 Large or 4 Small
Almond Milk/ Coconut Milk: 36 ounces
Honey: 1 Tablespoon
Almond Extract: 1 Teaspoon
Chia Seeds: 3 Scoops in Each
(if using large mason jars, 1 scoop for the smaller mason jars)
Fruit: YOUR FAVORITE KIND OF FRUIT!!!
Directions:
Pour 36 oz. of almond milk into a blender. Add the honey and the almond extract while blending. (Feel free to add or take away from these two ingredients according to your liking.) Evenly distribute the almond milk into mason jars. Allow pudding to chill for 20 minutes; periodically stirring it. Add your favorite fruit; I like mine with strawberries! Eat with your favorite spoon, ENJOY!!
-Milli-
---