10 Fitness Retreats you Should Consider Visiting
Whether you are just a fitness buff or fitness is your profession, it is nice to take a little getaway. Do what you love in a beautiful place around new faces (or none at all). Here are 10 fitness retreats from around the world that you should add to your bucket list.
Red Mountain Resort has an array of options for what you would like to focus on with your fitness and wellness journey. Expand your mindfulness or boost your metabolism or anything in between. Located in St. George, Utah, this resort is nestled in the beautiful desert mountainscape that this state is known for. Among the personal training sessions and spa recreation, there are daily guided hikes through the beautiful red mountains. Wellness retreats here involve the nutritional and fitness guidance of professionals from the Intermountain Healthcare's Live Well Center. Initial assessments are taken to help better understand what aspect of wellness you need focusing on.
You will leave Red Mountain with a better understanding of what nutritional, mindful, and overall health considerations you should take in your daily life. After leaving the retreat, the LiVe Well personal training team will follow up with a series of three sessions in order to help you stay on track with your newly forged path to health and wellness. Therefore, this is an experience that will have a lasting impact on the way you perceive your own health and wellness.
Former participants give name to the lifelong impact that this organization provides through its programs, The Chosen Effect. Through workshops focusing on self-empowerment, meditation, and challenging team adventures, Chosen Experiences offers a getaway experience that will make you reevaluate your goals and aspirations for your own wellbeing. This organization has been proactive in its response to COVID by now offering virtual experiences. Therefore, if you need a bit of reevaluation in your life before COVID measures across the world die down, then you can tap into the Virtual Chosen Experience. Their programs are designed by Olympians, neuroscientists, nutritionists, and wellness professionals to help you better manage your life stressors and channel that into furthering your success both personally and professionally.
If you want a beautiful getaway to the beach with nothing but serenity and peace of mind, then this is your go-to fitness retreat. Break free of the day-to-day fitness and get active in the beautiful beaches of Guatemala, Southern Costa Rica, Nicaragua, or Barbados. This is an off the grid experience for those who need to check out of work, stress, and management, and check in to a little bit of peace. Paired with daily surf sessions are yoga classes and meditations. All destination options on this retreat are eco-friendly and very remote. With no outside world distractions, this is a great vacation to really focus on your health and wellness goals. Also, tap into a little cultural learning at any one of these destinations.
This all-inclusive getaway in Saint Lucia is packed full of different adventures for fitness buffs. Start out your visit with the island's famous quadrathlon where you will mountain bike across the island, run to a cliff face where you rappel down to hop on a kayak to finish the race. For the duration of your stay, you can enroll in the BodyAware program to get some guidance on your fitness goals through nutritional and exercise counseling. On the wellness side, there is a wide range of options to relax and unwind those muscles. You can dive into Thai Yoga, unwind with acupuncture, and lose yourself in Bhutanese therapies. Moreover, you get a much more specified experience month to month with themed itineraries. This October is focused on yoga, so check them out today!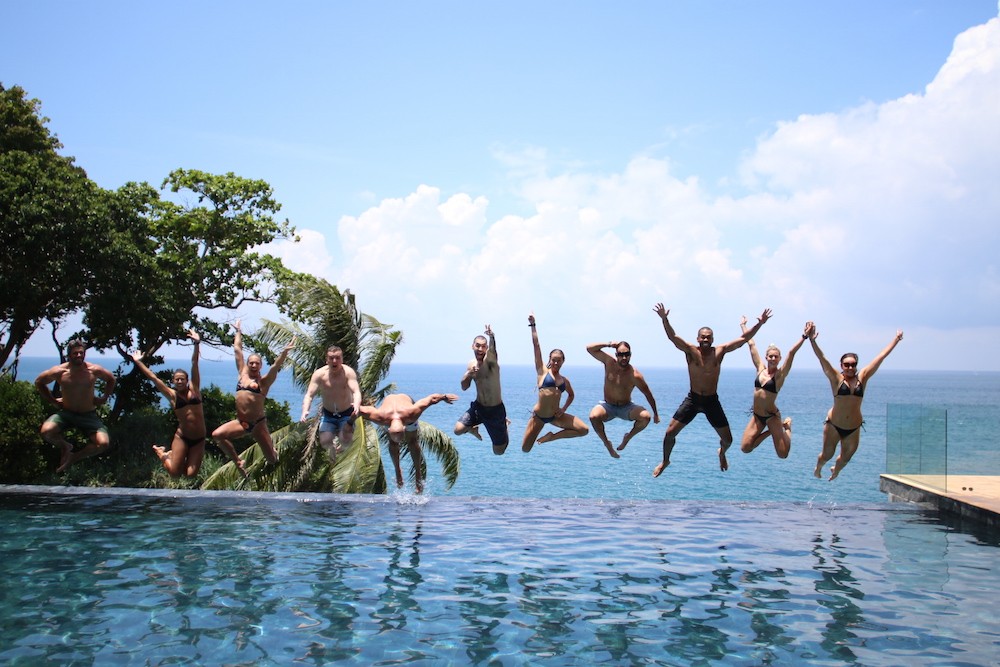 Know no bounds with Active Escapes. Throughout the year, Active Escapes hosts fitness retreats in Australia, Barbados, Hawaii, Bali, Maldives, and so many more. You will join others from around the world with a team of personal trainers to get some traction on your fitness goals. This experience is designed for people at all fitness levels. You have many options for your Active Escapes experience! You can stick completely with the itinerary of events like surfing, kayaking, hiking, and personal training sessions. Or you can attend some of them and have the freedom to explore the destination at your own discretion. One of the best parts of this experience is the people you meet.
The founders, Ali and Zanna Conlan, say they love the connections that people make on these adventures. Try out this retreat if you need a little bit of a fitness reset and make some new friends from around the world.
In the beautiful east coast countryside, you will find another level of contentment and relaxation. If you are looking to get fit or learn more about your fitness journey, then Canyon Ranch in Massachusetts has plenty of options for you. With over 35 daily activities to take part in, you will find your niche here pretty quickly. Before you arrive, you will have a consultation with a health professional to better tailor your activities to your needs. If you want an experience that will reconnect you with joy, then this is your go-to resort. From physical health and wellness to mental, you will leave this getaway with a better sense of self. Also, if you visit in the Fall, then you're in luck! You will have the most beautiful experience with a sea of red, yellow, and orange trees all on rolling, lush green hills.
Pair your need for relaxation with a little bit of adrenaline and excitement here at eXtreme Fitness. Located at the best kitesurfing spot in the world, you will have access to surfing, horseback riding, SUP boarding, and many other extreme sports. This is a great fitness getaway for the individual or for the whole family. There are two different camps that you can participate in to focus on your fitness goals. If you are just getting started with your fitness goals, then you can participate in the weight loss camp. If you want a new perspective on your fitness journey, then you can join a tropical fitness holiday camp. Both camps will provide guests with lasting lifestyle changes and improvements.
This resort is unique for its focus on sustainability and ethically sourcing all resources. Solar energy powers the whole resort! Also, you will find that the majority of the produce and goods are sourced right there in the Dominican Republic. This resort also offers long-term stays, so if you work remotely, you can take part in this community for as long as you please.
If the water calls your name, then The Big Blue Swim is a vacation you must take. A rich historical learning experience paired with gorgeous views, this swimming tour of Greece is hard to beat. Swim tours are available in four different areas of Greece. The choice of which depends on your level of experience and the focus of your vacation.
Before you hop in the water, you will be assessed for improvements you can make. You'll have a short personal training session to help you hone your swimming skills before you take the deep dive. You will swim about a 5K daily at the different locations that the founders have handpicked. Frankly, for all that you get to experience with this fitness retreat, the price is extremely reasonable.
If you need a vacation focused on finding your zen, then this resort is ideal. In an area that is historically rich in Buddhist values and meditative practices, you'll find peace everywhere you turn. Health and wellness experts take a holistic approach to guiding you on whatever you choose. Options and experiences are endless as you can choose to focus your improvements on anything from digestive health to yoga practices. You can enroll in programs to focus on weight loss, mindfulness, mobility, and more intensive fitness avenues.
With very many options in such a beautiful place, you will find what fits your needs very quickly.
Beautifully nestled in the Poconos Mountains, the Lodge at Woodloch offers everything wellness and self-focused. In an all-inclusive stay here, you will have access to daily guided activities through the mountains and on the resort. Throw hatchets, shoot arrows, catch some fish, and take a hike. In terms of wellness, you can take a series of TRX, cardio, aquatic, or yoga classes to tune into your body. Learn some lifestyle tips at this fitness retreat that you can take with you to use when you go back to your daily life.
In Summary
As a fitness instructor or fitness business owner, you will always need a bit of guidance and realignment on your own journey. There are many many more spas and fitness retreats around the world, but these are a few that stood out. In this list, is a range of options for experiences and cost, so take some time to look into the vacation you didn't know you needed.
If you liked this blog, then check out some others here. If you have any suggestions from personal experiences with fitness retreats, then leave a comment below!